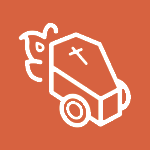 Coffin Races Registration
Think you have what it takes to win?
The 2023 Coffin Race Roster is now full.
Interested in becoming a racer? Follow our rules to enter.
The minimum age for drivers and pushers is 12.
All cars will be subject to an inspection in Pit Row prior to the are start. You will not race unless you pass inspection, in adherence to these rules.
All drivers must wear a helmet.
All cars must have functional brakes and steering throughout the race. If your brakes or steering become inoperable, you must correct prior to your next scheduled heat. If you are still making repairs when you are scheduled to race, there will be a 10-minute time limit to finish repairs. If you are not race ready by the 10-minute mark, your team must forfeit.
The only modifications that you are allowed to make to your car, post-inspection, are for approved repairs. You CANNOT modify your car once you have been inspected or at any time throughout the race. Modifications include, but are not limited to: adding weight, changing wheels, adding compressed air tanks, etc.
Compressed air, small engines, or propellants of any kind, are not allowed. The ONLY force propelling your car down the hill is from your pusher's push at the line. No exceptions.
All cars must be coffin inspired. This is a Coffin Race, after all. We appreciate the creativity teams have shown in the past with their cars, but we are returning to the spirit and intent of this event and requiring coffin-inspired entries by all teams.
Total car length may not exceed 12 feet. That includes the push bar if you're using one. For example, the length from the nose of your car to the end of the push bar may not exceed 12 feet.
All teams are guaranteed two races. The entire field will race twice and we will take your best time — the Top 32 fastest teams advance to the tournament.
Foot faults: Your pusher's foot may not cross the starting line, even for momentum. If your pusher foot-faults on one of your two guaranteed races, the non foot-fault race time will be your official time. If you foot-fault on both of your guaranteed races, you're eliminated. If you make it into the tournament and you foot-fault, you're eliminated.
You may not utilize a "pusher catcher" at the starting line. No one from your team other than the driver and pusher may be present at the starting line. Teams are allowed one pusher, per coffin, per heat.
If you have more than one driver at a time, all drivers must cross the finish line to get your official time.
No pedals. No motorized propulsion of any kind.
Intentional lane crossing is grounds for disqualification. That means no ramming or steering in front of your competitor.
Each driver and pusher must sign the Waiver and Release Agreement prior to the race. The waivers will be available at check-in. Only drivers and pushers are required to sign a waiver.
$120 non-refundable entry fee per team. Maximum: 60 teams. The 1st 25 teams to register will also get two Coffin Race t-shirts and posters.
You will receive an email confirmation upon entry. If you do not receive an email confirmation of your entry, contact us immediately at CoffinRaces@dentondayofthedeadfestival.com.
In order to complete check-in on the day of the race, each car will undergo an inspection by race officials to ensure the guidelines above are met. If the Pit Crew Boss see something at check-in that is questionable (dangerous to other racers and attendees; stabby things, etc) your car will be subject to modification before the race starts. Check-in will begin promptly at 10:00 a.m. on race day.
PLEASE NOTE: Due to increased safety measures, only responsible consumption of alcoholic beverages from personal coolers will be allowed, and we will not allow distribution of alcoholic beverages to the public or other teams inside Pit Row or the Day of the Dead Festival footprint.
The Coffin Races will take place on Saturday, October 28, 2023.
We will have a REQUIRED pre-race meeting on Thursday, October 12, 2023 at 6:00pm at Eastside Denton (117 E. Oak Street, Denton, 76201) to go over rules and answer questions. Each team must send at least one representative to this meeting.